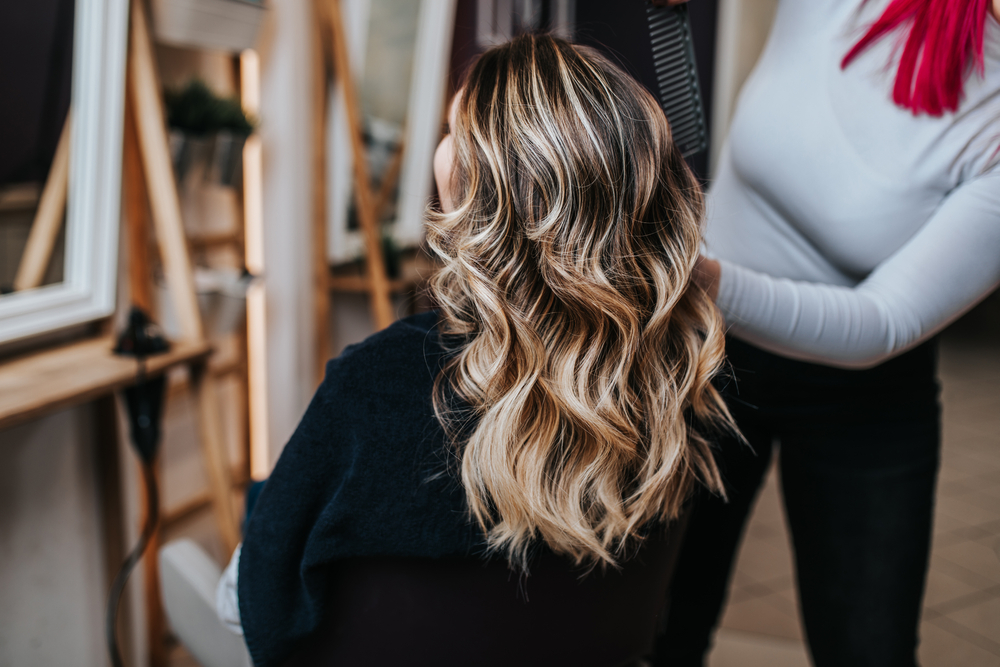 Balayage Miami
Discover the Art of Balayage – Unleashing Radiance, One Strand at a Time
Welcome to the world of Balayage at Danny Jelaca Salon & Spa, where we create art with sun-kissed highlights and lustrous lowlights to enhance your natural radiance. Our hair balayage services go beyond the ordinary – we combine the science of color theory and the artistry of our Miami hair salon stylists to transform your hair. Despite what many think, balayage is not just about adding dimension and light to your hair, it's about crafting a personalized look that embodies your style and respects your hair's health.
Types and Techniques of Balayage
Our expert stylists have mastered several techniques to bring out the best in your hair:
Classic balayage: This is the original balayage method, where we freehand paint regular highlights onto your hair, to create that beautiful, sun-kissed effect. It's perfect if you desire a subtle transformation.
Foilyage: A fusion of foiling and balayage techniques, Foilyage offers a brighter, bolder color while maintaining the depth and dimension typical of balayage. Foil is a fantastic option if you want a more pronounced contrast.
Soft balayage: Ideal for those looking for a gentle hint of natural highlights, soft balayage involves delicately painting thinner sections of hair for a muted, more diffused lightening effect.
Reverse balayage: This balayage technique adds depth back into the hair by applying a darker color to selected strands. It's the go-to option if you want to create more contrast or deepen your existing balayage.
Full Head balayage: We go all out and cover your entire head in carefully placed, hand-painted highlights. It's a perfect option for a dramatic, chic hair makeover.
We can customize each of these services for you. Our experts carefully consider your hair's texture, your skin tone, and your personal preferences to create a balayage look that's perfectly you. We also offer professional tips for healthier growth and style to modern women according to the latest trend, whether it is curls, ombre, brunettes, beachy, or mix.
Balayage Miami, FL Maintenance Tips
The soft, honey-dipped, balayage highlights make it a striking style that adds an incredible dimension to your hair. But just like a fine piece of art, it needs careful maintenance to keep it looking it's absolute best. Here are our stylists' best tips to ensure not only will your Miami hair color last longer, but your hair will stay in good shape, too.
The gentle touch
We cannot stress this enough – be gentle with your balayaged hair. Always use a wide-toothed comb or a special brush designed for detangling to avoid breakage. Lightening certain sections of the hair can sometimes alter the hair structure and make it more susceptible to damage from rough handling. Not to mention, vigorous brushing or combing can irritate your scalp and strip your hair of its natural oils.
Invest in good products
Invest in high-quality, sulfate-free shampoos and conditioners, ideally, ones specifically designed for color-treated hair. When you visit our hair studio for the best balayage in Miami, Florida, we can recommend beauty products that will help preserve the vibrancy of your color and are packed with essential nutrients and moisturizers to keep your hair as radiant as the Miami sun!

Mask it up
Balayage may be gentle, but your hair roots can always benefit from some extra TLC. A nourishing, reparative mask will help mend any minor damage from the coloring process, and also boost the shine of your balayage, making your hair look like it's just stepped out of the salon. We recommend hair treatment masks that are rich in hydrating ingredients like Argan oil or shea butter, or those fortified with proteins like keratin.
If your balayage is more on the blonde spectrum, a purple-tinted mask can help keep brassiness at bay, so your highlights stay fresh.
Cool it down
Did you know your shower temperature could be affecting your balayage? Hot water can be harsh on your hair, as it strips away the natural oils as well as that beautifully crafted color. Opt for lukewarm water when shampooing to protect your color. A final rinse with cool water works wonders too, because it seals the hair cuticles, adds a natural gloss, and tames frizz.
Hold off on heat styling
We all love those beach waves or smooth straight hair, but frequent heat styling can take a toll on your balayage. Excess heat can fade your color and lead to breakage. If you can't avoid your beloved styling tools, remember to use a heat protectant spray. As Danny would say, this is not a suggestion, it's a must!
Consult your stylist
Your stylist at Danny Jelaca Salon & Spa is your hair's best friend. We are there to guide you on how to maintain your unique balayage between salon visits. Regular check-ins, ideally every 6-8 weeks, will help keep your hair color vibrant and your hair healthy. We can recommend when it's time for a touch-up or if your hair needs some extra care. Trust our expert eyes and hands to keep your balayage fabulous!
Step into Your Best Hair Day at Danny Jelaca Salon & Spa
Discover the magic of custom balayage at Danny Jelaca Salon & Spa, a go-to destination for celebrity balayage favorites. We believe that every strand tells a story, and our expert hair stylists are here to help narrate yours through glow-infused highlights and rich lowlights. Experience our unique color service that respects your hair health, complements your style, and brings out the best in you. Don't just dream about perfect hair – live it! Call us at 305-604-9696 or schedule your appointment online.